Massey Ferguson 5600: Radical design sets new benchmark.
New MF 5600 Series Tractors from 85 – 105 Horsepower blends Straight-forward Operation, High Comfort levels and Control
Download the brochure on the Brand New Massey Ferguson 5600 series tractors
The completely new Massey Ferguson MF 5600 Series tractors blend sophisticated features with straight-forward operation, comfort and control.
Watch the launch video of the brand new Massey Ferguson 5600 series here, it shows the MF5600 series tractors in action
The new tractors set the new benchmark in terms of engine power, torque and manoeuvrability and offer operators exceptional performance in the yard and field or on the road. The pioneering AGCO POWER three cylinder, 3.3 litre capacity engine meets the most stringent emissions limits with just the addition of a maintenance-free DOC and an element of Exhaust Gas Recirculation (EGR). This simple design cleans up the exhaust gases while providing an enormous space saving to accommodate a highly efficient cooling system as well as a high visibility bonnet.
The MF 5608, MF 5609 and MF 5610 will replace the existing, highly acclaimed steep nose MF 5430, MF 5440 and MF 5450 models, building on their success by including even more enhancements that further improve operation, particularly for loader work. "The MF 5600 Series provide the most straight-forward and practical answer to meeting the latest emission regulations in this tractor power bracket," says Campbell Scott, Massey Ferguson Brand Development Manager. "The radical new design sets the new benchmark for loader tractors with an engine size and power that is exactly right for the job. With the MF 5400 from Massey Ferguson we set the standard and now with the MF 5600 Series were are further raising the bar to ensure livestock and mixed farmers do not have to compromise by employing older, out-dated designs."
New MF 5600 Series tractor specifications
MF5608 – 85hp (max power at 2,000 rpm) – 363Nm (max torque at 1,600 rpm)
MF5609 – 95hp (max power at 2,000 rpm) – 405Nm (max torque at 1,600 rpm)
MF5610 – 105hp (max power at 2,000 rpm)- 413Nm (max torque at 1,600 rpm)
MF 5600 features:
– Pioneering, economical AGCO POWER three cylinder, 3.3 litre engine – exactly the right size for the task, using straight-forward technology as a maintenance free way of meeting latest emissions legislation
– Sophisticated Dyna-4 ECO 16/16 transmission with new brake-pedal activated transmission to neutral feature, along with Autodrive now available on 85-105 hp tractors, maximises output
– New, spacious, high comfort MF 7600-style cab with new instrument display and right-hand console, pillar and panel
– Three roof options: Standard, Visio and Slimline, plus two cab positions allows users to select exactly the specification to suit customers' height and comfort requirements
– High flow (combined 100 litre/min) hydraulics operate loaders quickly and at low revs
– New right hand joystick allows operators to control transmission, hydraulics and loader operation with one hand, gear shifts as well as loader functions all on finger tip controls
– Exceptional visibility for both loader and front linkage operation from new windscreen, sloping narrow bonnet and compact cooling package.
Ground-breaking three cylinder engine in the new MF5600 range of tractors
Developed specifically for use in tractors, the ground-breaking 3.3 litre capacity AGCO POWER engine which powers the new MF 5600 Series offers exceptional power from its three cylinders. On top of providing more output/cylinder the design is perfectly sized for the application and offers unrivalled levels of power and torque, generated at low engine speeds for optimum fuel economy. The ingenious design of its electronically-controlled, common-rail fuel injection and superb airflow through four valves/cylinder, means it requires only a maintenance-free Diesel Oxidation Catalyst (DOC) and an element of External Gas Recirculation (EGR) to clean the exhaust gases to meet the Stage 3B emissions limits.
Compared with the more traditional four-cylinder engine, the AGCO POWER three cylinder unit is considerably more compact, allowing operators to benefit from superb visibility over the bonnet that is narrower than that on the MF 5400 Series. It also provides plenty of space for the new, easy-to-clean cooling package, configured in the same design as used in the larger MF 7600 range. Three cylinders means there are fewer moving parts that create less friction than four, leading to better fuel efficiency. Economy is further improved by the long, 500hr service intervals.
Chandlers Used-Massey-Tractors.com will shortly have an excellent selection of used, and ex. Demo Massey Ferguson 5600 series tractors for sale.
Photos of the Brand New MF5610 from the EIMA show launch fitted with the MF loader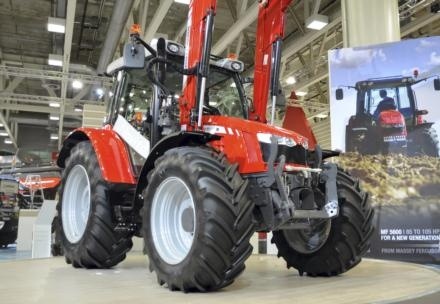 To view lots more photos of the Massey Ferguson 5600 series tractors visit the MF5600 model page
The brand new MF5600 range of tractors will make their official UK launch at the LAMMA Show, read the preview coverage on the Farming UK website of the LAMMA Show launch UK launch of the MF5608, MF5609 and MF5610 in January 2013